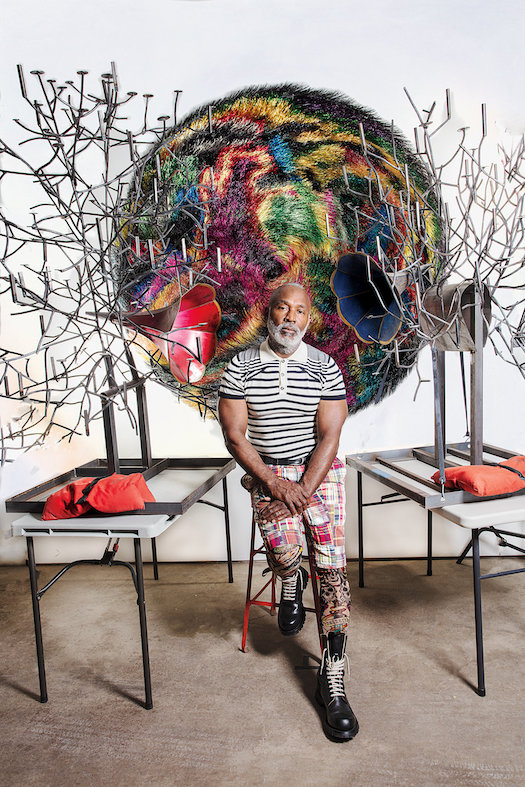 Nick Cave (1959 - )
Nick Cave is a fabric sculptor, dancer, and performance artist from Fulton, MO. Born in a big family with many older siblings, Cave developed an interest in fabrics from altering clothes that were passed down to him from his siblings. He graduated from Kansas City Art Institute with a Bachelor of Fine Arts in 1981 and later enrolled in Cranbrook Academy of Art in 1988. He currently resides in Chicago and holds the position of Stephanie and Bill Sick Professor of Fashion, Body and Garment at the Art Institute of Chicago.
Cave is most famous for his Soundsuits, an elaborated series of sculptural costumes based on the scale of Cave's body. The artworks are an assemblage of a large variety of materials, ranging from twigs picked up from the ground to vintage toys from flea markets. The provocative and daring usage of colors and materials is also influenced by Barkley L. Hendricks' paintings, especially "Steve" (1976), which serves as an inspiration for both Cave himself and his artistic creations. Soundsuits serve as camouflage for the body and conceal the race, gender, and class of the individual wearing them. Once in a while, Cave would put together outdoor performances of dancers wearing Soundsuits for people to experience the dynamic of the sculptures.
Soundsuits often carry social significance. The first Soundsuit was a response to the Rodney King beating in 1991. The incident caused by police brutality, along with his personal experience of being racially profiled, made him feel confused, discarded, and insignificant. These feelings were resonated by the discarded twigs Cave noticed on the ground in a park one day. He started collecting them, and eventually started assembling them into the first Soundsuit. Another piece of Soundsuit that carries social significance is named "TM13," which was created in 2015 in memory of Trayvon Martin, an unarmed teenager who was fatally shot in 2012. "TM" stands for the initials of Trayvon Martin, and "13" is the year when the shooter was acquitted. The piece has a base form of a black man wearing a hoodie, and the mannequin is accompanied by toys and blow molds of symbols that represent innocence. These elements are then enclosed in a woven net made of beads. The sculpture resembles a hunted animal being captured, which is a situation that describes the racial inequality in society.
Although the origin of Cave's sculptural works are often dark and reflect the unfortunate and infuriating side of society, his use of delicate materials and vibrant colors is a call for hope. The Soundsuits ask people to see others without the labels of race, gender, and class, and therefore without judgement.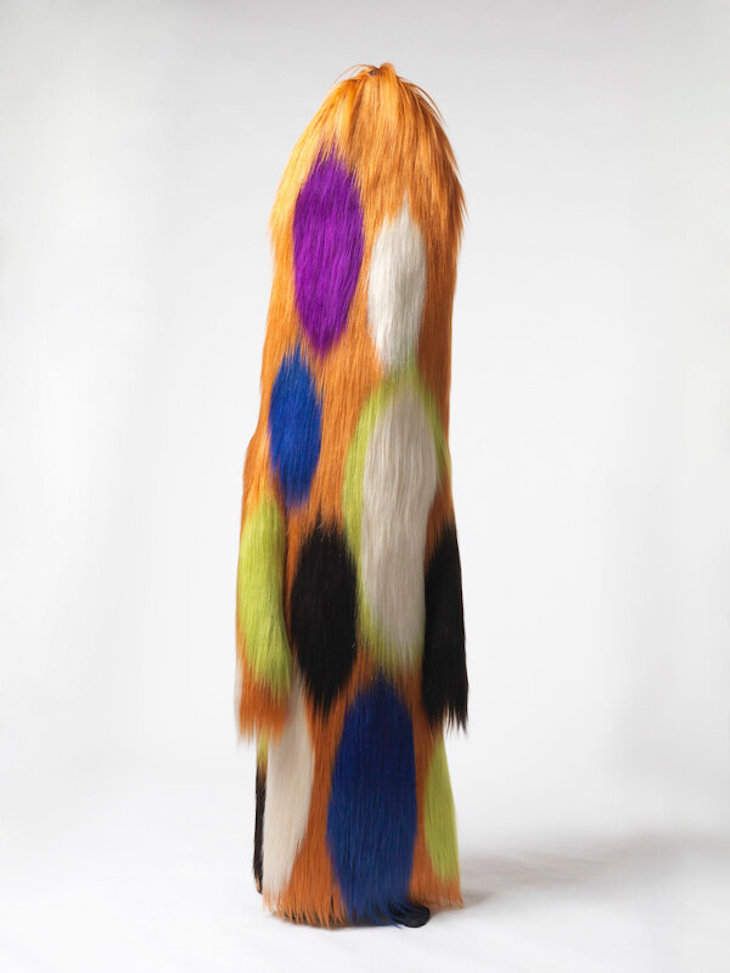 Soundsuit, 2009. Mixed media including synthetic hair. Image © Nick Cave. Courtesy of the artist and Jack Shainman Gallery, New York. Photo by James Prinz Photography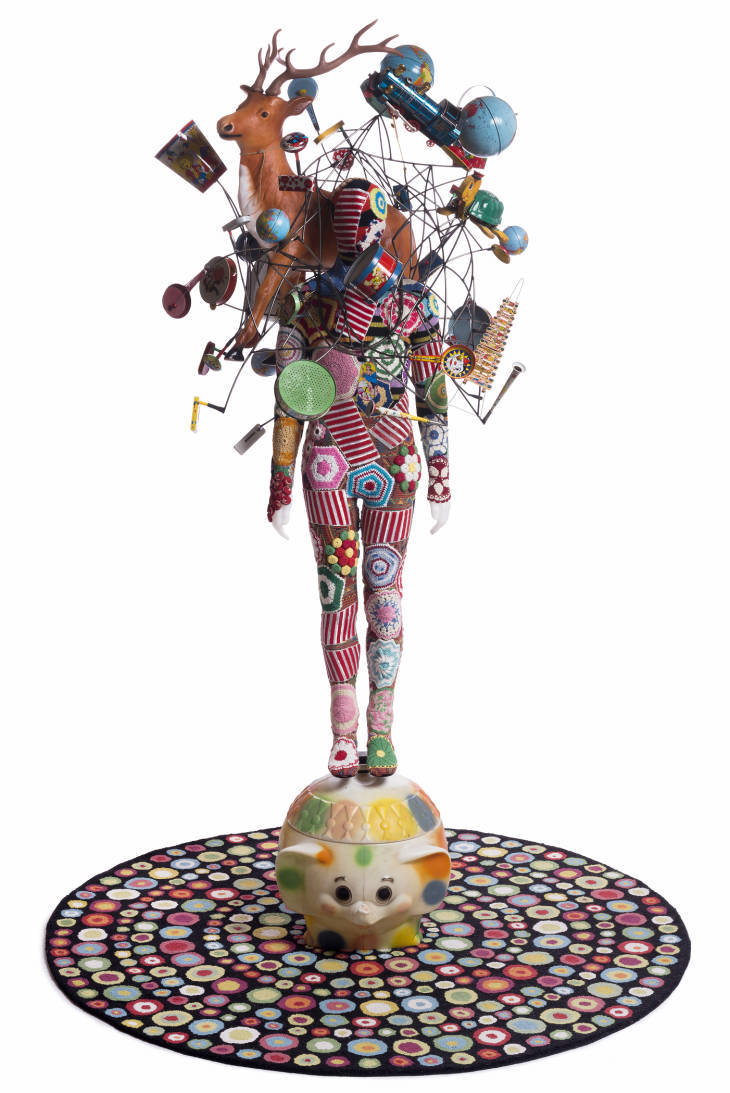 Soundsuit, 2012. Mixed media including embroidery, fabric, vintage toys, rug, and mannequin. Image © Nick Cave. Courtesy of the artist and Jack Shainman Gallery, New York. Photo by James Prinz Photography.